Valley TeleCom provides scholarships to current Valley customers and their family members.
Our 2021 - 22 Application proccess has begun.
To participate, download the PDF documents below.
The Foundation grants one-year scholarships, which are paid one semester at a time. There is a five -year maximum for any student to receive a scholarship for undergraduate studies and a three-year maximum for graduate studies.

Our 2021 - 22 recipients will be announced at our 57th Annual Meeting which will be held in May.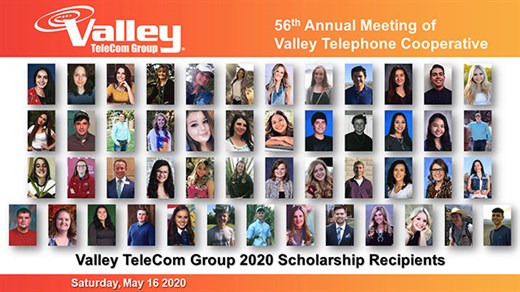 2020 Scholarship recipients featured during the Valley Telephone Cooperative's Virtual Annual Meeting held on May 16, 2020. As part of Valley TeleCom group's committment to giving back through scholarships, we're proud to play a part in the educational future of our youth. This year, Valley TeleCom Group gave out 49 scholarships totalling $130,000.00.