Add-on money available for Junior Livestock events.
Valley TeleCom Group is a long-time supporter of youth agriculture opportunities and would like to be an add-on contributor at County Fairs or Livestock Expo. Eligible recipients include children of Valley TeleCom Customers, Employees and Board Members. Valley must verify the status of each exhibitor.
If you qualify, please
click here
to access our verification form.
Download and fill out the form, then email it to us (name and email appear on form) so we may verify eligibility to award funds. Please tell us which event this is for in the subject line of your email.
(Exhibitors may only receive add-on funds for one event or fair annually)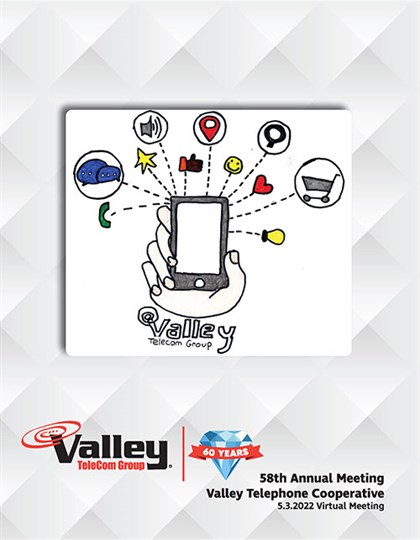 2022 Annual Meeting
click the image for full program book

Interested in Donating Your Capital Credits to Benefit Others?
By donating your capital credits to the Valley Telephone Cooperative Foundation, you can help to fund valuable educational grants to schools and organizations as well as scholarships to individuals. To donate, download and save the following form, fill it out, sign it and mail it to the address at the bottom of the form.

Affidavit for Capital Credits
(Download this form to claim a deceased relatives account.)

Click here for Frequently Asked Questions about Capital Credits.
Valley Telephone Cooperative and Copper Valley Telephone Company to merge.
Click the above headline to read the press release.

Our Commitment is to the Communities We Serve.
Valley Telephone Cooperative is committed to the basic principle that we are owned by those we serve.
We stand by our reputation of quality customer care and services that support our communities.
Annually, we sponsor many community activities and events to show our appreciation for those we serve.