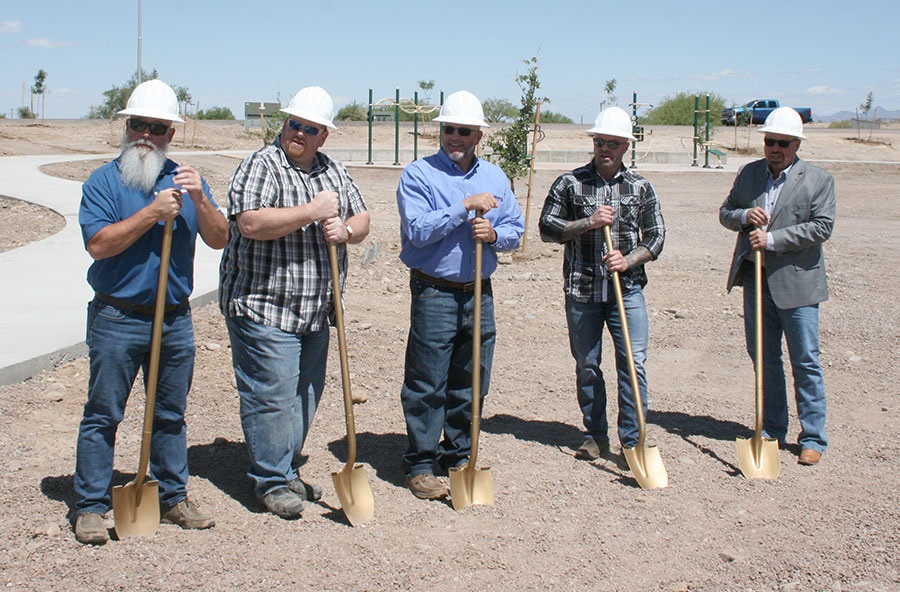 Valley staged a groundbreaking ceremony on Monday, May 17, 2021 for the new Thatcher fiber expansion construction project at Thatcher Town Park (Reay Lane Park) located at Ball Park Dr. and S. Reay Ln. in Thatcher.
The event featured the following speakers: Valley TeleCom Chief Financial Officer Troy Judd, Graham County District 2 Supervisor John Howard, Graham County Chamber of Commerce Board Member Doug Gardner (Sales Mgr. / Velocity Builders) and Mears Group Broadband Area Manager David Owen. Valley's Bob Dahlstrom acted as the emcee. After remarks, the presenters plus Valley TeleCom Operations Manager Heath Bowen made a symbolic turning of the shovel to officially kick off the project.

(pictured in photo L-R Heath Bowen, Doug Gardner, Troy Judd, Dave Owen and John Howard)

Click here to see a video of the groundbreaking and to see a construction map.
Giveaways included Valley Logo'd BBQ sets and jumper cables sets. Bottled water was on hand as well as cookies from Sugar Street Cakery featuring Valley TeleCom and Mears logos. The event was well attended and covered by David Bell from Gila Valley Central who posted an article later in the day
https://gilavalleycentral.net/valley-telecom-breaks-ground-on-thatcher-expansion/
.